Buying HubSpot Is Just One Small Step In A Very Long Journey
With 95,000 customers and counting, HubSpot has changed the way marketers plan, execute, analyze and optimize their marketing tactics.
But as we've seen in our 10 years working with HubSpot, and with hundreds of new clients onboarded by our team, there are many features associated with HubSpot that not every client gets right out of the gate.
As with any new software your company purchases, how you configure it, train your team to use it and work it into your day-to-day operations is critical.
Here are some of the considerations, features and capabilities that companies typically miss when they use HubSpot without solid guidance and advice from trained HubSpot resources.
Data
The condition and the quality of your data is very important. We often hear prospects tell us they have 10,000 contacts in their email database, but most of them are old or outdated. Your marketing won't thrive if your data is bad.
Your data should be one of your initial priorities when moving from one system to HubSpot or choosing HubSpot as your first marketing automation platform.
Start by putting clean, accurate and complete data into HubSpot. If your data isn't clean, you should clean it, and there are a number of ways to do that. If you have inaccurate or incomplete data, you should make it a priority to clean up and build out that data.
For example, personalization is critically important in marketing today. If you are missing first names in your database, or if these names are spelled incorrectly or entered inaccurately, your campaigns are going to underperform dramatically.
Migrations
Many of our clients move from one platform to another. Some move from systems like Pardot or Marketo/Adobe and others move from systems like SharpSpring or Zoho.
While moving from one system to another isn't always a big deal, it always takes strategy, planning and a solid process to make this move easy.
One of the biggest considerations is knowing what you want your new system to do and how you want it to work. This direction goes into planning the migration and configuring HubSpot to work as you desire.
Some of this might be designed around what you didn't like about your old system, but more of this should be around best practices and improvements to the way your company executes marketing, reports on marketing and optimizes performance over time.
By defining these operating requirements, you can more easily configure HubSpot to work exactly as you need it to.
Integrations
This might not appeal to everyone. Not every company connects HubSpot's marketing software to other systems, but many do. You might need it integrated with your CRM, like Salesforce. You might need it integrated with apps or other marketing tools you're using.
Just like data and migrations require strategic thinking up front, these integrations do, too. What data do these integrations need to share? Do they need to be bidirectional? How often do they need to share information? Is the data moving back and forth going to change? How frequently?
Are you open to considering using standard API integrations? How about middleware or custom integration tools? How are you planning on QA'ing the integrations to make sure they work right before they're unveiled to users?
All of these considerations are critical to making sure the integrations are set up correctly, maintained correctly and monitored. Integrations can break, and sometimes they do if they're not monitored.
Onboarding And Training
HubSpot is easy to use, but it does require a certain set of onboarding and training exercises for it work as designed.
Landing page templates, email templates, CTAs, image standards, blog formatting, nurture sequences, list segmentation and more all need to be thought through and added to the HubSpot portal. Sure, there are templates in HubSpot and you can use them to get started, but many of our clients have additional requirements that need to be considered.
When we onboard clients, we review their requirements with them, discuss best practices, and outline the onboarding and configuration work that needs to be done before anyone sends an email, clicks on a CTA or visits even a single website page.
This ensures that the tool is set up correctly, and this work gives you the best chance of achieving the results and business outcomes that drove the purchase initially.
Training is equally important. Even HubSpot can become a hot mess of workflows, templates, reports, dashboards and website pages if people aren't trained on how to use and manage everything correctly.
We recently trained a 5,000-person global professional services firm on how to plan, set up and manage campaigns in HubSpot. It added an incredible amount of value, streamlined what they were doing and provided a framework for all of their marketing managers to start thinking about campaigns and how to leverage HubSpot to generate better results.
Conversion Rate Optimization
Putting your website and landing pages on HubSpot won't automatically result in more leads. But if you set up and use HubSpot correctly, you can set up analytics that will uncover CTAs, website pages and landing pages that need help.
You can then create a regular rhythm of optimization work that continually improves conversion across all of your digital assets to produce more leads and likely more sales opportunities.
CTAs, landing pages and website pages are often where we turn first to improve client program performance, because in HubSpot these are generally easy to update, upgrade and adjust in real time.
Lead Scoring
Many businesses look at lead scoring as a B priority. They want to get everything else working first and then they'll consider lead scoring. But that's probably not the best approach. Instead, start with a simple lead-scoring model.
A number of easy-to-implement lead-scoring models can be built right into HubSpot during the onboarding and configuration phases. Demographic information, website behavior and interactions with social or follow-up emails are all you need to build a basic lead-scoring model in HubSpot.
Now your reps know exactly what to do and how much time to spend with priority leads versus leads that might be better suited for an ongoing automated lead nurture workflow.
Automated Nurtures
Speaking of automated nurtures, this is one of the strengths of marketing automation platforms. Automating time-intensive and low-payoff activities is key. Creating automated email workflows or sequences is key, and they should be set up at the time of onboarding and initial configuration.
These can be triggered by onsite activity like filling out forms. They can be built for sales reps to enter prospects into these automated nurtures.
You can define your requirements during the planning stage and build these out during the initial configuration. Keep them simple out of the gate. You'll have plenty of time to go in and elongate them, add new nurtures, analyze performance and make adjustments to your active nurtures.
Landing And Website Page Optimization
This isn't exactly functionality, but it's an opportunity to optimize program performance that HubSpot tools provide. I often see clients underutilizing this area of their marketing. For example, if you don't move your website to the HubSpot CMS, then you won't have much data or many insights around the performance of your website pages.
Yes, you'll have landing page and CTA data (form data, too), but we believe that you need the entire picture to make solid optimization action plans that produce increased leads and sales opportunities.
Once you have the data from HubSpot, you should be regularly (monthly for sure, but probably weekly) looking at page performance and making changes for improvements.
Better yet, run a few tests each week. Change the headlines, shorten the forms, try different visuals, update the copy or add a testimonial. Make one change each week and watch performance. This constant and continuous optimization work is key to inbound and lead generation.
Chat – Conversational Marketing
Another feature that many clients don't take full advantage of is chat and the power of conversational marketing. I understand it might be scary to let visitors chat with you directly on the site. Who will handle the questions? What if they're away from the desk? What if they can't answer the questions? How will visitors feel about a bot?
I get it. But it's not hard to answer these questions, figure out the bot answers, configure the tool to work right and rotate responsibility around the office to make sure someone is live during office hours.
Your visitors are reasonable, so they won't be upset if a bot answers their question at 10 p.m.
This feature is one of the best ways to identify people who are deep in their buyer journey and want to talk to someone immediately. Often these people are your best leads, so get ready to take care of them and help them the way they want be helped.
Reporting, Dashboards And Analytics
At Square 2, we do a reporting workshop with our clients to define exactly what reports and dashboards they need. This session allows us to inform the clients around why they might want certain dashboards as well as how to aggregate data and visualize data.
Often, the requirements take some time to discuss. It's important to ensure no duplication and that the dashboards are going to get used. Creating reports and dashboards that no one looks at is a waste of everyone's time.
Who is going to use it? Why do they need it? What do they hope to learn from it? What action plans will it inform? These are the questions that should be asked before you start building out the dashboards and reports.
The HubSpot reporting tool has improved significantly over the past few years, and today you have almost unlimited opportunities to create custom dashboards. But with power comes great responsibility. I love that quote. Just because you can do it doesn't mean you have to.
Think through this work before you start doing it.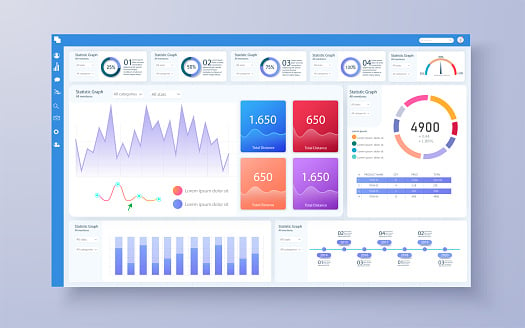 Insights And Action Plans
Finally, dashboards and reports have to help inform and improve plans that increase your leads, sales opportunities and revenue.
The end game is not creating reports but rather building tools to help visualize the data so that you can derive insights and build action plans.
The data has to speak to you. It has to tell you what's working well, what's not working well and what's not working at all. The data has to inform your plans.
For example, let's double down on this tactic because it is doing great. Let's stop doing this altogether because we can't make it work. Let's move budget from tactic A to tactic B because the data tells us this will help us optimize our budget and our results.
That should be the endgame here. If it's not working like this for you today, there are ways to improve your analytics execution and drive better action plans.
HubSpot shouldn't just be about email marketing, social media, content publication and blogging. It's far too powerful of a tool for you not to use it to its full value and take advantage of everything it can do for your business.